We believe in new beginnings.
At Brownstown Dental Care in Brownstown, MI, we provide lifetime solutions to restore beauty, confidence and self-esteem where a new smile means a new beginning.
You deserve life-changing dentistry.
Get it with Dr. Ben Hanson at Brownstown Dental Care.
You don't have to live with missing teeth, dental pain and those awful problems eating the foods you really want to eat. You don't have to constantly hide your smile and suffer from low self-esteem and lack of confidence. Watch this video and imagine how you'll feel with a completely restored smile. Dr. Ben Hanson can change your life with full mouth restoration and Esteem Dental Implants.
Dr. Ben Hanson invites you to a free Esteem Dental Implants consultation.
Dr. Ben Hanson places hundreds of dental implants every year and has become a premier provider of same day implants, implant supported dentures, and full arch dental implants in Brownstown, MI. He not only helps patients with missing teeth restore their smiles but is also the clinical director of implant initiatives for Heartland Dental. Check out the video for your invitation and then call 734-472-2101 to schedule your visit.
Dental Services At Brownstown Dental Care
At Brownstown Dental Care, we offer a variety of dental options to meet the unique needs of our patients. Our team of skilled dentists and dental professionals is committed to providing high-quality care in a comfortable and welcoming environment.
We are humbled to have over 1,000 5-star testimonials from your Michigan neighbors from towns such as:
Brownstown, MI
Flatrock, MI
Rockwood, MI
Newport, MI
South Rockwood, MI
Woodhaven, MI
Gibraltar, MI
New Boston, MI
Waltz, MI
Willow, MI
Trenton, MI
Southgate.MI
Trenton, MI
Carleton, MI
Grosse Ile, MI
Taylor, MI
Dental implants allow for life-changing results. Our system, Esteem Dental Implants, is a state-of-the-art procedure that, as the name suggests, restores your self-esteem!
Have major dental health issues? We specialize in restoring your whole mouth. Known as full mouth rehabilitation, full mouth restoration or full mouth reconstruction, the results are life-changing.
Dr. Ben Hanson and Dr. Lauren Biernacki are experts at using various cosmetic dental techniques to give you the smile of your dreams.
Your Brownstown neighbors may be straightening their teeth with our help and you wouldn't even know it! Invisalign is the smile improvement choice of today.
Gum disease can be a major cause of tooth loss. The Brownstown Dental Team is on your side in your fight against periodontal disease.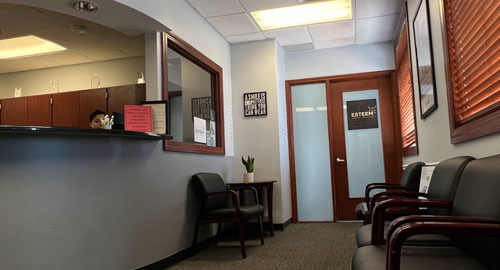 Do you get fearful or nervous? Our IV sedation not only allows you to relax, it can also let your dentist get more done in fewer visits.
We offer general dentistry to patients of all ages. Our patient-centered approach is appreciated by families from not only Brownstown, but from many other nearby towns and beyond. 
Our comprehensive endodontic and root canal treatments are done in-house at our Brownstown dental office which saves you the hassle of traveling to specialists and delaying treatment.
Life happens! And when it happens to your teeth, be sure to give your Brownstown dentist a call right away. Your smile is precious and we'll work to save yours.
Over 1,000 5-star testimonials for Brownstown Dental Care
The Brownstown Dentists, Dr. Ben Hanson and Dr. Lauren Biernacki, along with the entire staff at Brownstown Dental Care, give a big "THANK YOU!" to our Brownstown, MI neighbors. We really appreciate your feedback and support. Some of you are local residents. of nearby towns while others come from quite a distance for our dental services. We thank the community for the support and invite you to continue to leave reviews and testimonials so that we can constantly improve how we serve you.  
Dr. Hanson and staff are very friendly and knowledgeable. I love my Esteem dental implants. It was painful to eat before the implants because I was missing many teeth. I can now eat pain free. I'm no longer embarrassed to smile. I greatly recommend Brownstown Dental Care. It's been a wonderful experience. Thanks to Dr. Hanson. I love my SMILE!
Been going here for years now, WONDERFUL place, great employees, nice waiting room. Timing and scheduling is great, works well with our busy schedules. My oldest (9) loves them all as well, so generous and very warm welcoming when introducing new procedures to him. He did amazing with the fillings (when it was his 1st time). They give great references to others that deal with younger ones before they can take on after. 10/10 if I could rate higher I would. Beyond amazing! Thank you.
I called this dentist office in hopes of getting an appointment before I leave town. (All the others told me itd be a week or two) They got me an appointment for the next day, very quick, very professional, and even without insurance, the price in my opinion was beyond fair. 5 stars, would recommend to anyone, will definitely be going back.
Your Frequently Asked Questions About Brownstown Dental Care and the Esteem Dental Implants Center
Do you offer a free dental implant consultation?
Yes! We understand that your dental story may have a long history and we'd like to hear it. Call the Brownstown dental office at 734-472-2101 and schedule your free consultation. We'll listen to you, take some scans and discuss your options with you. Most of our success stories started this way and ended with life-changing results. We'll walk you through how to get the smile of your dreams.
What kind of dentistry does Brownstown Dental Care offer?
Whether you need to see a dentist for preventive care or want to undergo a smile makeover, we are here to provide a range of services and create your personalized treatment plan. We use the latest dental technologies, including lasers and digital x-ray machines, to ensure optimal results with all procedures. You can turn to our practice for everything from porcelain veneers and Invisalign® to comprehensive tooth replacement and smile makeover procedures.
Due to our extensive training and experience, we are pleased to offer complex dental procedures that othe dental offices iin the area may not even consider. Rather that send you out to a specialist, we can take care of you right in our Brownstown, MI office.
Yes, we offer full arch dental implants. Dr. Hanson places and restores dental implants with full arch bridges and uses guided implant surgery techniques for the best possible result.
And for our nervous patients, we provide IV or intravenous sedation. We offer Relacs IV sedation for patients who have dental anxiety or fear of going to the dentist. Intravenous sedation eliminates the sensation of pain and makes it easier for you to get get more done to your teeth in fewer visits.
Why choose Brownstown Dental Care and Esteem Dental Implants?
Michigan residents turn to our team in Brownstown, MI, for all their dental care needs and so should you. From general dentistry and preventative care to complex cosmetic and restorative dentistry procedures, we are your team dedicated to providing quality, comprehensive care under one roof. In addition to providing high-quality dentistry services, our dentist, Dr. Benjamin Hanson is the Clinical Director of Implant Initiatives for Heartland Dental, a dental support organization that helps dental professionals achieve mastery in their specialty areas. Dr. Hanson is the local expert on dental implants and full mouth rehabilitation and uses his advanced skills and expertise to keep other professionals up to date on the latest implant dentistry techniques.
Can you tell me about Dr. Benjamin Hanson?
Ben Hanson, D. D. S.  – When you are looking for an experienced and trusted dentist in Brownstown, MI, you can count on Dr. Benjamin Hanson for all dentistry services, treatments, and procedures. Dr. Ben Hanson earned his Doctorate Degree in Dental Surgery at the University of Michigan in Ann Arbor and is a member of several organizations, including the Academy of General Dentistry and is a Fellow of the International Congress of Oral Implantologists. He is the sole Clinical Director of Implantology for Heartland Dental, an organization that supports over 800 dental practices. Dr. Hanson's personable and professional approach helps patients feel comfortable and confident about their chosen provider.
What are Esteem Dental Implants?
Dr. Ben Hanson of Brownstown Dental Care is a certified Esteem Dental Implants provider and uses the procedure to provide dental patients in the Brownstown, MI region with life-changing dentistry.
Esteem Dental Implants is a state-of-the art dental implant bridge procedure performed by highly trained and certified dental implant dentists. Think of the implants as "artificial teeth roots". They are made from material that's stronger and more durable than commonly used materials. The result is more than completely fixed teeth. You'll get the beautiful, healthy, natural-looking smile of your dreams!
Here are some beneficial features of Esteem Dental Implants over alternatives such as dentures:
Bite, chew and talk without discomfort or pain
No shifting, slipping, or pain
Incredibly durable and stain resistant
Looks natural and feels great!
You deserve a new beginning.
A Brownstown Dental Care Patient Case Study
Jacky explains how Dr. Ben Hanson and the dental implant team at Brownstown Dental Care changed her life with the right treatment. A life time of fear, embarrassment and regret has been reversed in this uplifting case study.
Contact us today.
Brownstown Dental Care in Brownstown, MI is your local team for dental implants, cosmetic dentistry and other life-changing dental services. Your neighbors count on us for all their dental care needs. From general dentistry and preventative care to complex cosmetic and restorative dentistry procedures, we are your team dedicated to providing quality, comprehensive care under one roof.
Contact us today for life-changing dentistry.
Call 734-472-2101
Email Us
"I highly recommend Brownstown Dental Care! The staff is wonderful and super friendly making your visit extremely comfortable, Dr. Hanson is the best hands down! I have been to many dentists and I can say none of them even compare! I had the dental implant procedure which was a breeze and I have high anxiety going to the dentist. Dr. Hanson gave me my smile back and I am forever grateful! Thank you to everyone at Brownstown Dental Care for making this possible!" ~ Ray
"Dr. Hanson and staff are very friendly and knowledgeable. I love my Esteem dental implants. It was painful to eat before the implants because I was missing many teeth. I can now eat pain free. I'm no longer embarrassed to smile. I greatly recommend Brownstown Dental Care. It's been a wonderful experience. Thanks to Dr. Hanson. I love my SMILE!" ~ Kathy